July 4 Celebration
NSF DAHLGREN JULY 4, 2020 CELEBRATION Recognizing the King George County 300th Anniversary
Sponsored* by NSWC Federal Credit Union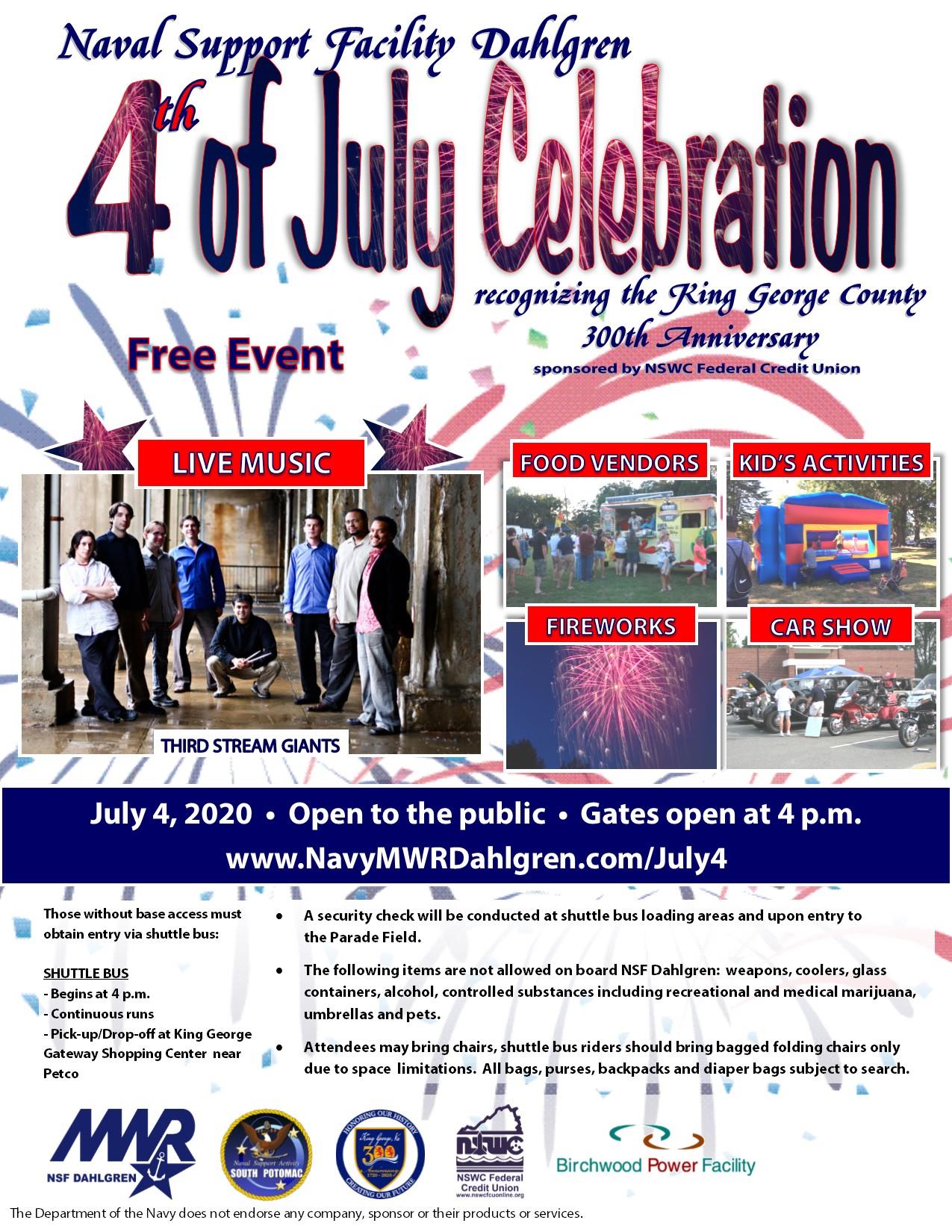 CLICK HERE to view sponsorship opportunities for this event.
*Neither the Navy nor any other part of the federal government officially endorses any company, sponsor or their products or services.

Sponsored by*
*No Navy endorsement implied.
EVENT DETAILS
This event will be open to the public and features kids activities, car show, food vendors, live music, large history tent, beer garden, fireworks and more!
Gates open at 4 p.m. Fireworks will begin around 9 p.m.
All vehicles entering the base MUST have at least one DoD ID card holder and all others must have a valid photo ID.
For those without a DoD ID card, shuttle service will be available for base entry. Shuttles will depart the King George Gateway Shopping Center (near Petco) beginning at 4 p.m., and will run continuous loops until the end of the event. You MUST have a valid photo ID to board the shuttle bus.
The following items are NOT ALLOWED on board NSF Dahlgren: weapons, coolers, glass containers, alcohol, controlled substances including medical and recreational marijuana, umbrellas, and pets.
Attendees may bring chairs. Shuttle bus riders should bring bagged folding chairs only, due to space limitations.
All bags, purses, backpacks, diaper bags, and strollers are subject to search.
More information coming soon!

Interested food vendors and sponsors inquire via e-mail at dlgrffrmarketing.fct@navy.mil.
CAR SHOW • JULY 4, 2020

Spots are limited for the FREE entry car show at the NSF Dahlgren July 4 Celebration. The car show registration, as well as the July 4 event, are open to all with base access. If you DO NOT already have base access, proper vetting must completed by June 26, coordinated through the Community Rec Center on base (bldg. 106). All cars must have current registration and insurance on the day of the event, as well as a driver's license to enter. For further questions and registration please call the Community Rec Center at 540-653-8785.
NOTE: All cars must be pre-registered. Cars must be on base and in their designated area by a certain time prior to the event start.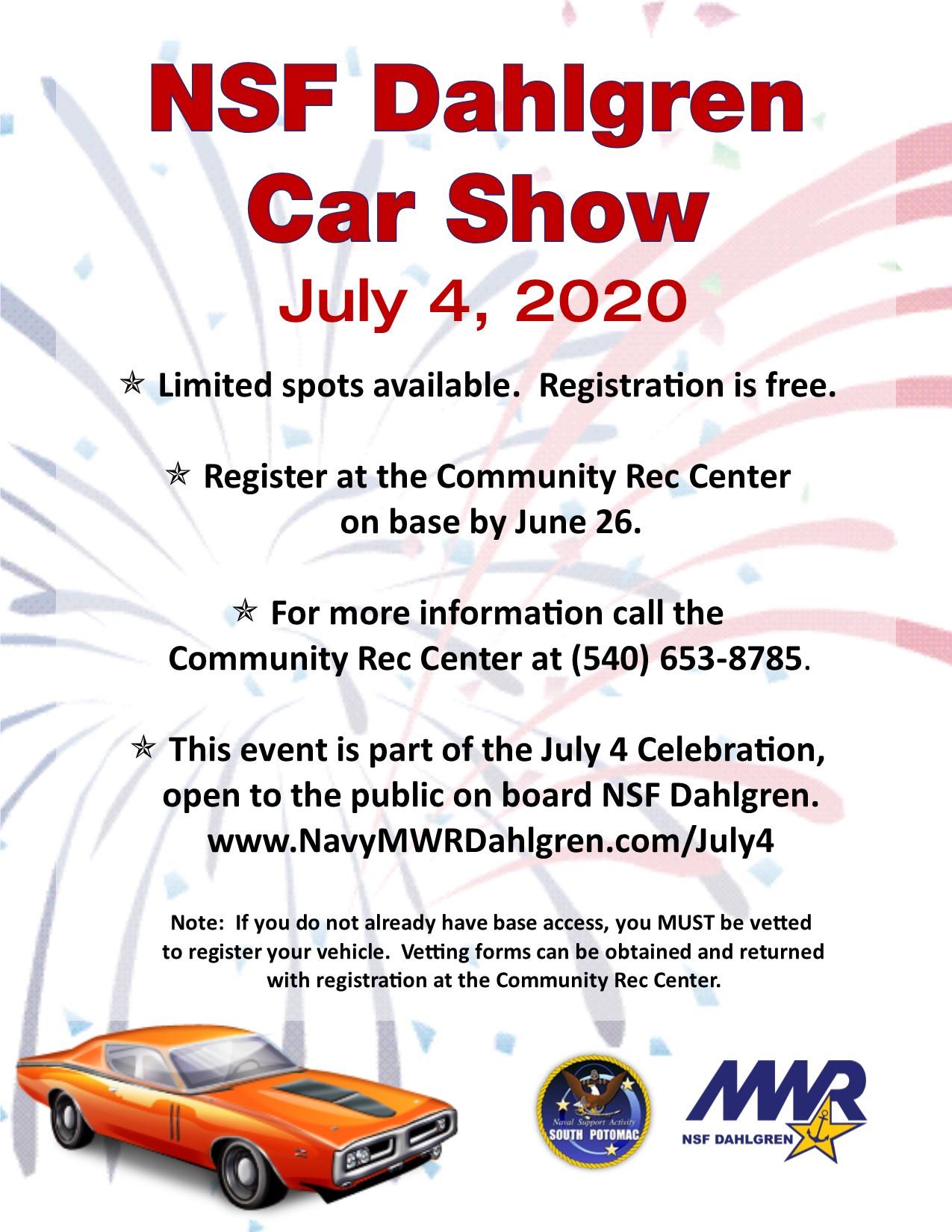 LOGO & THEME CONTEST • JULY 4, 2020

Calling all King George County School students, grades K-8! Come up with a theme and design your very own logo that could be used in some element(s) of the NSF Dahlgren July 4 Celebration Recognizing the King George County 300th Anniversary.


RULES:
•Entry must include a theme (slogan) and logo (picture)
•Must be on white 8.5x11 paper
•No computer generated graphics allowed
•Students MUST do their own artwork
•Students do not need to attend the July 4 event to participate in the logo contest

NOTES:
•All art must have a name, phone number, school attended and mailing address to be considered.
---------------------------------------------------------------------------------
ENTRY MUST BE RECEIVED BY APRIL 10, 2020.
DROP OFF AT:
•Entries can be dropped off at (for those with base access):
MWR Community Rec Center
6168 Jenkins Rd., Bldg. 106
Dahlgren, VA 22448
OR
Entries can be dropped off at your local school front office.

MAIL TO:
•Entries can be mailed to:
MWR Admin Office
Attn: Logo Contest
17267 Dahlgren Rd., Bldg. 205
Dahlgren, VA 22448