2nd Annual Dahlgren Sprint Triathlon
Save the date!! The 2nd Annual Dahlgren Sprint Triathlon will take place on Saturday, April 27, 2019. This year individuals can compete alone or in a team of three! Spectators are encouraged and can enjoy yard games, music and activities while they're waiting for someone on the course.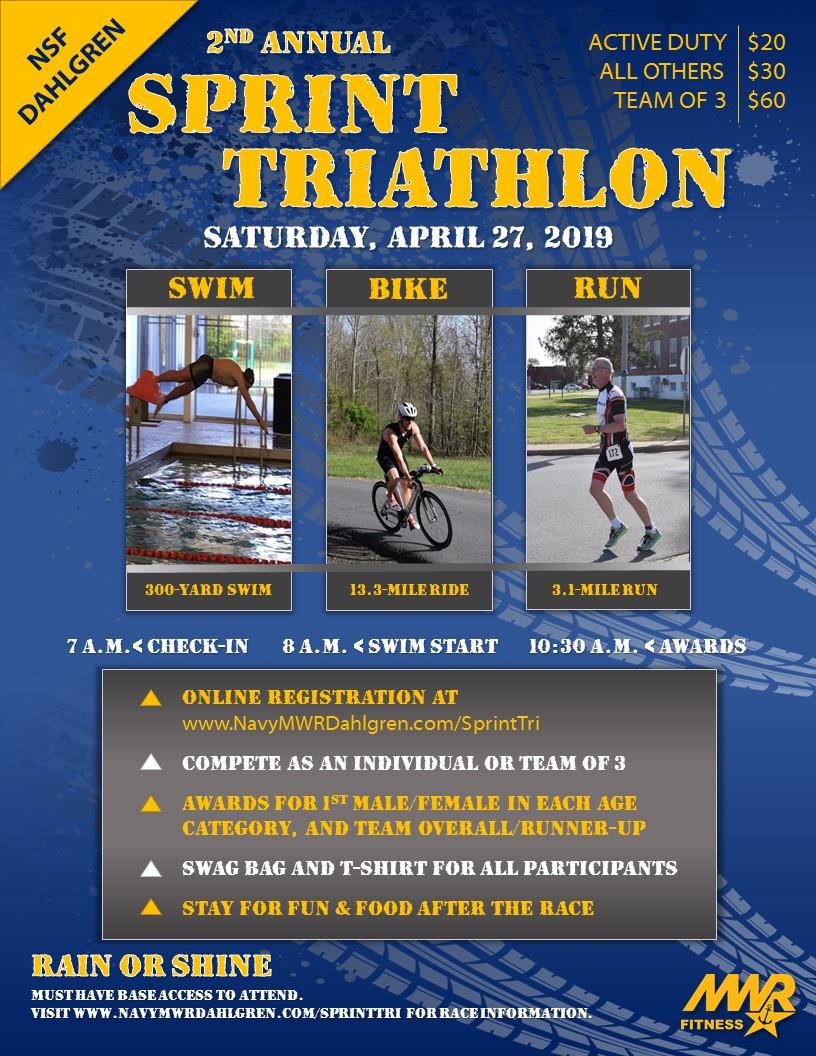 FOLLOW THESE THREE STEPS TO COMPLETE YOUR REGISTRATION.

STEP 1
Complete your payment registration online by CLICKING HERE or register in person at the Fitness Center.

Note: All competitors registering for individual competition must complete payment registration.
If registering as a team, only ONE individual needs to complete payment registration for the team.
(However, all participants must complete step 2 and step 3.)
---
STEP 2
CLICK HERE to download the waiver.
Every participant is required submit a signed waiver to the Dahlgren Fitness Center prior to competing in the event.
---
STEP 3
Every participant, regardless of individual or team competition is required fill out the form below.
---

Sprint Tri - FAQs
When do I need to register by?
ALL participants must be registered by Friday, April 19, 2019.
There must be a minimum of 25 people registered by Friday, March 29, 2019 for the event to move forward. If less than 25 are registered by that date, all who have already paid will be refunded.
What if I can't pick my packet up before the race?
If you are not able to pick your packet up on the designated days, you will be able to pick it up during check-in.
Who signs the waiver if the participant is under 18?
If the participants is under 18, a parent or guardian must sign the waiver on his or her behalf. The waiver must contain the participant's name and then the parent/guardian should sign at the bottom of page 2 on their behalf.
How much does it cost?
Individual Active-duty- $20; Individual All Other - $30; Team - $60
What does my entry fee get me?
A Sprint Tri T-Shirt, Drawstring bag, Swim cap, and lunch after the race.

Can I register in person?
Registration will be accepted at the Fitness Center in person,or online.
What categories will receive awards?
Individual: 17 and under, 18-25, 26-39, 40+
Team: Overall and runner-up
What are the distances for each portion?
Swim – 300 yards – it will be a "snake" swim. Participants will be completing one full lap in each lane.
Run – 5K (3.1 miles)
Bike – 13.3 miles
I don't have a way to get on base, can I still participate?
You must have base access in order to participate. There will be no refunds given unless the event is cancelled due to low participation.
Can I bring people to cheer for me?
Absolutely! However, they MUST have access to the base.
Can I register more than one person at a time?
Yes. You must include first and last name, t-shirt size, approximate 300 yard swim time and gender for each registered participant. You must also acknowledge that EACH participant HAS BASE ACCESS. Without base access, registered participants will not be granted access and will not be given a refund.
I see that awards are at 10:30 a.m. Does this mean that I must be able to complete all three events by that time? There is no time limit. Awards will be given out at approximately 10:30 a.m., but any participant still on the course at that time will be allowed to finish.