COVID-19 UPDATE
UPDATE 06JUL:
Select MWR facilities will reopen at limited capacity, or by appointment only, for Active-duty personnel. Updates will made frequently as hours and/or patron usage is updated; or new facilities are added to the list. All information will be available here and on our Facebook page (fb.com/dahlgrenffr).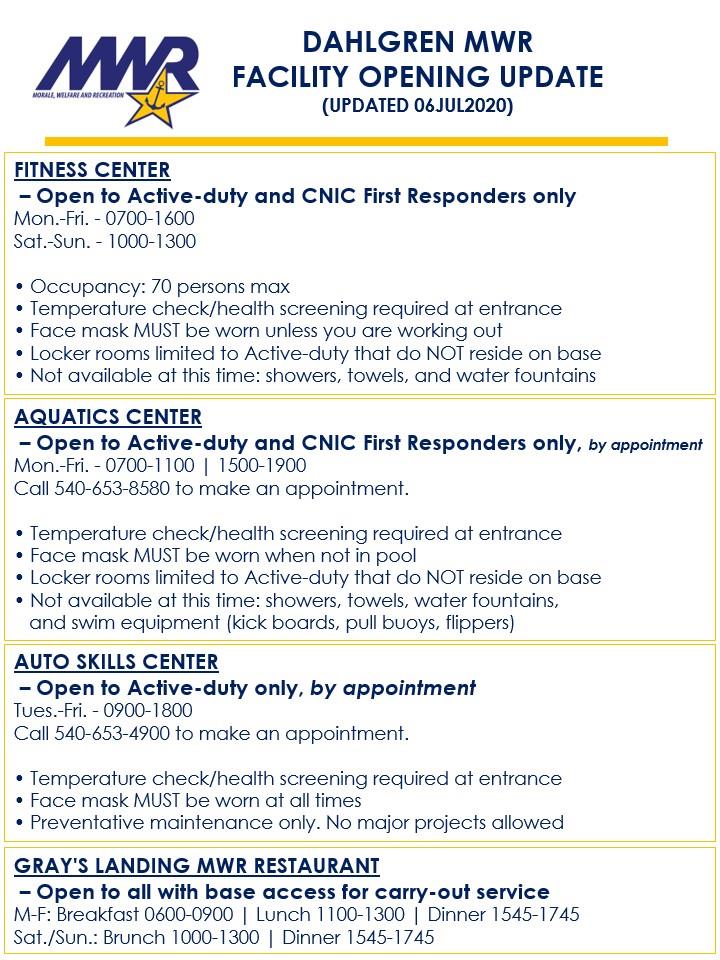 ---

Attention NAF Employees - Support is available for any NAF employee experiencing increased anxiety, fear or emotional stress surrounding the coronavirus outbreak, it may help to speak to a professional clinician through your employee assistance program (EAP) provided by ACI Specialty Benefits. ACI's EAP is confidential, free to use for employees, and open to all family members. Call ACI at 800.932.0034 or email eapinfo@acispecialtybenefits.com
Download the brochure here.
---
CLICK HERE for virtual Fleet & Family Support Center Webinars.
Scroll down to see more MWR At Home options.
---
LIST OF CLOSURES LAST UPDATED ON 19JUN2020:

Out of an abundance of caution, the following NSF Dahlgren MWR facilities will be CLOSED UNTIL FURTHER NOTICE.

-Cannonball Lanes
-Community Rec Center
-Craftech
-Dahlgren Theater
-Gear Issue/Equipment Rental
-Library
-The Brow Cafe


Gray's Landing MWR Restaurant Remains OPEN FOR CARRY-OUT ONLY:
540-653-3077
Until further notice, there will no longer be any in service dining available at Gray's Landing. Our service will be carry out only starting tomorrow morning. You will still have the ability to choose meals from either the hot bar orthe grill and deli, but we will limit some of the options from the salad bar and dessert areas. Because of this, there will be a flat fee of $7.50 for a meal during lunch or dinner hours. There will not be an option exclusively for the salad bar. Breakfast will still be $6.50. Once again, you will still be able to come to Gray's to get a meal, but you will have to take it to go, there will not be an option to dine in. As of right now, our service times are still the same:
M-F: Breakfast 0600-0900 | Lunch 1100-1300 | Dinner 1545-1745
Sat./Sun.: Brunch 1000-1300 | Dinner 1545-1745
---
"Stay Connected' with MWR At Home
Click here to see all at home activities that include fitness, cooking, kids, entertainment and more.