The Navy and Liberty Military Housing, as a public/private partnership, provide on-base housing for military families. There are 78 units of single-family houses and 125 townhomes that currently serve the needs of the military stationed at NSF Dahlgren. For more information, click here to view the Liberty Military Housing website.
At any time following receipt of orders to a duty station serviced by NSF Dahlgren, you may apply for housing. You may submit applications by mail, fax or in person. Application packets must include:
Completed Application for Assignment to Housing (DD Form 1746)
Copy of orders
Copy of current Page 2 or Record of Emergency Data form for proof of dependents.
Sex Offender Policy Acknowledgement & Disclosure form
Mail application packet to:
Housing Service Center
NSA South Potomac (Code N93)
6136 Jenkins Road, Suite 205
Dahlgren, VA 22448-5109
FAX application information to (540) 653-7040
Take application packet to:
Housing Welcome Center
Building 142
NSF Dahlgren
Off-base Services provides assistance with locating off-base housing in the Maryland, Virginia and Washington, D.C., areas including:
· HEAT (Housing Early Application Tool) https://www.homes.mil/heat/DispatchServlet/HeatEntry
· Foreclosure/loan restructuring
· Home buying
· Homeowners' Assistance Program
· Landlord rental workshops (private rentals)
· Lease reviews
· Mediation
· Move-in/move-out inspections
· Private rental (single-family homes)
· Short-term rental/lease information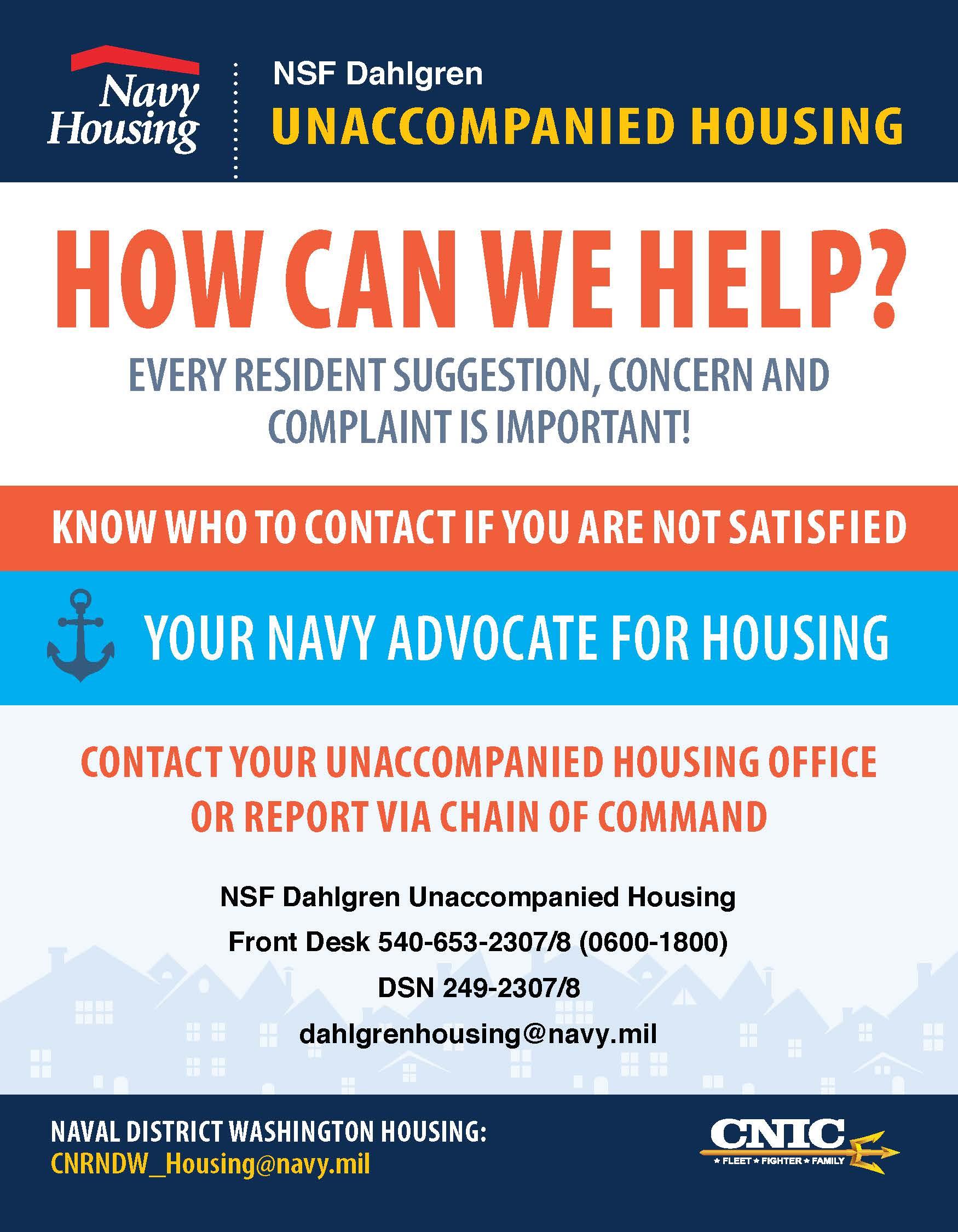 Unaccompanied Housing provides support to single enlisted members who are permanent party personnel at Naval Support Activity South Potomac and its tenant commands. Bachelor Enlisted Quarters includes two buildings with 222 spaces. All military members must check-in at the front desk located at Bldg. 962 before being assigned a room. All rooms are subject to weekly inspections and residents are required to maintain daily living standards and comply with Unaccompanied Housing rules and regulations. Residential Advisors are available for assistance after hours and federal holidays. The duty Residential Advisor's contact information is located on the lobby bulletin board of Bldg. 962.
Dahlgren Unaccompanied Housing
NSA South Potomac (Code N93)
17410 Potomac Inn Road, Bldg. 962
Dahlgren, VA 22448-5109
FAX application information to (540) 653-0499
Take application packet to:
Dahlgren Unaccompanied Housing
Building 962