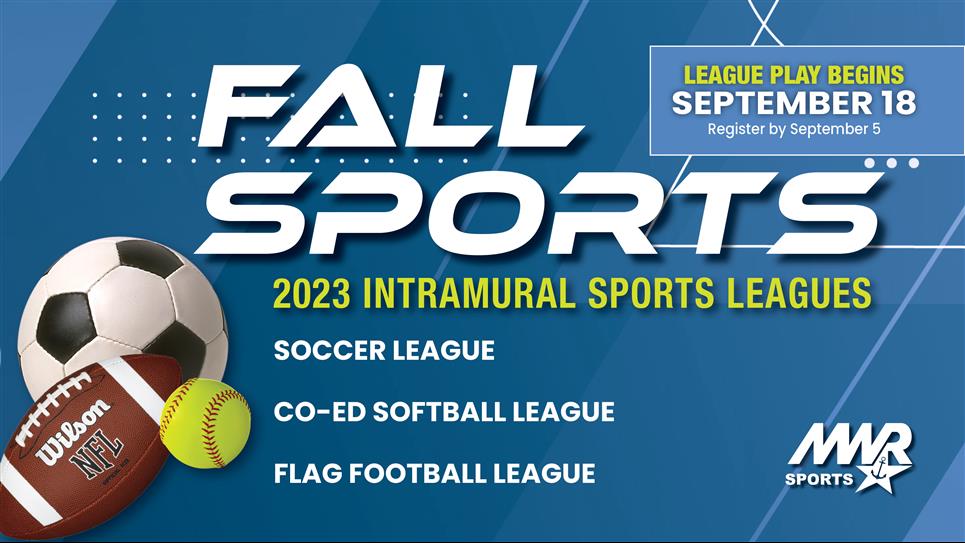 2023 INTRAMURAL FALL SPORTS LEAGUES
Gear up for an exhilarating season of Fall Intramural Sports Leagues! Whether you're a football enthusiast, a softball star, or a soccer aficionado, we have something special in store for you. Rally your friends, teammates, and fellow sports lovers to create unforgettable moments on the field.
Flag Football League: Get ready for heart-pounding action on the gridiron. No matter if you're a quarterback with pinpoint accuracy or a defensive maestro, our Flag Football League caters to all skill levels. Unite your team and make every touchdown a memorable triumph!
Co-Ed Softball League: Step up to the plate in our Co-Ed Softball League. It's not just about hitting homeruns; it's about building connections, working together, and relishing friendly competition. Showcase your batting prowess and fielding finesse while having an incredible time with fellow players.
Soccer League: Unleash your soccer prowess in our Soccer League. From dribbling to passing and scoring sensational goals, this is your opportunity to shine. Whether you're a seasoned player or new to the game, the Soccer League promises excitement and camaraderie.
Open to All with Base Access
Our Intramural Fall Sports Leagues extend a warm welcome to individuals with base access. Whether you're an active-duty military member, contractor, retiree, military dependent, DoD civilian, or off-base civilian, you're invited to take part and savor the spirit of sports.
LEAGUE COSTS:
FREE - Active-duty military
FREE - Contractors with fitness membership
$10 - Retirees and military dependents
$15 - DoD civilians
$20 - Contractors without a fitness membership and off-base civilians
Get ready to sweat, compete, and create lasting memories on the field! Let's come together to celebrate sportsmanship and friendly competition this Fall season. See you at the games!
Secure your spot in the Fall Intramural Sports Leagues by registering at the Dahlgren Fitness Center before September 5. For additional information and any questions, don't hesitate to reach out to us at 540-653-8580.
More Sports Coming Soon:
Winter (Jan-Mar): Basketball, Racquetball, Futsal and Volleyball
Spring (Apr-Jun): Soccer, Co-Ed Softball and Flag Football
Seasonal Tournaments: Racquetball, Volleyball, Basketball, Dodgeball, and Walleyball
Other outdoor sporting activities: Disc Golf, Ultimate Frisbee, 5K run series, etc. Please contact the fitness center at 540-653-8580 if you have ideas for other sports or tournaments that you'd like us to consider hosting on base.