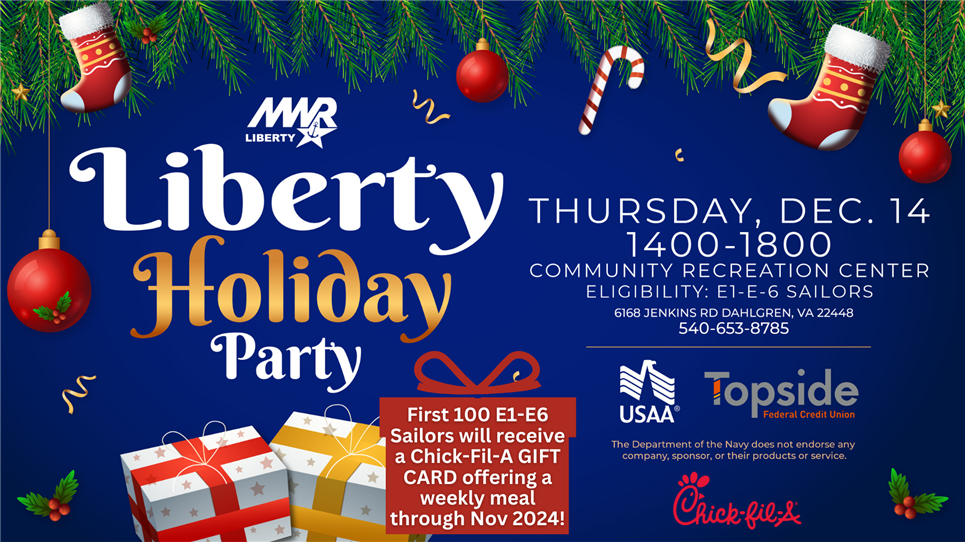 Liberty Holiday Party
December 14th from 1400-1800 at the Community Recreation Center
ELIGIBILITY: E1-E6 SAILORS
The first 100 E1-E6 Sailors that arrive will receive a Chick-Fil-A gift card offering 1 meal a week through November 2024! Must present valid photo ID, signature required. Special thank you to Chick-fil-A King George for this incredible holiday gift!
'Tis the season to mix and mingle at our annual Liberty Holiday Party!
Enjoy "fa-la-la-fabulous" music that will have you rockin' around the tree.
Gather to be a part of holiday games.
Get ready for gifts and extra surprises for ALL that will add an extra sparkle to your holiday cheer.
Plus, the first 100 that arrive will receive a special gift card for Chick-fil-A offering 1 meal a week through November 2024. These are FIRST COME, FIRST SERVED!

No RSVP required. Come and celebrate the holiday spirit with your fellow E1-E6 Sailors. It's going to be a jolly good time! Don't forget to arrive early to receive your gift card from Chick-fil-A as these are on a first come, first served basis.
Special Thank YOU to our sponsors USAA, Topside Federal Credit Union, and Chick-fil-A King George for making this holiday party extra magical.
For more information, please contact Community Recreation at 540-653-8785.
Neither the Navy nor any other part of the federal government officially endorses any company, sponsor, or its products or services.