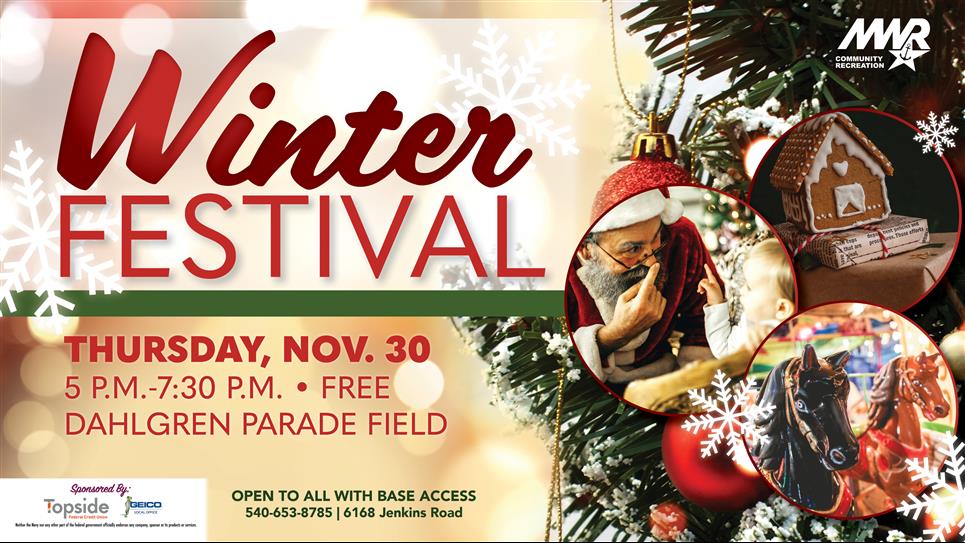 Dahlgren Winter Festival
Date: Thursday, November 30
Time: 5:00 PM - 7:30 PM
Location: Dahlgren Parade Field
FREE and open to ALL with base access!
Get ready to celebrate the joy of the season with your family and friends at the Dahlgren Winter Festival!
Highlights:
Meet Santa Claus: Capture magical moments with Santa himself! Bring your wish list and your smiles as Santa is making a special appearance just for you!
Marvel at Christmas Lights: Witness a breathtaking display of twinkling Christmas lights that will fill your heart with holiday spirit.
Festive Rides: Enjoy thrilling rides that will light up the night and add a touch of excitement to your evening.
Free Hot Chocolate and Cookies: Indulge in the warmth of the season with complimentary hot chocolate and delicious cookies.
Get Crafty: Unleash your creativity with free holiday craft projects.
Free Books for All: Courtesy of Bookmobile Fredericksburg, grab a free book to cozy up with during the holiday season.
Holiday Market Extravaganza: Discover a variety of vendors at the Holiday Market Extravaganza, offering unique gifts and festive goodies.
Savor Hot Mulled Wine: For those 21 and older, savor the flavors of the season with hot mulled wine, available for purchase. Please drink responsibly and present a valid photo ID.
Let's make cherished memories together at the Dahlgren Winter Festival! Don't miss this enchanting holiday event. See you there! For more information, contact Community Recreation at: 540-653-8785

Special thanks to our sponsors: Topside Federal Credit Union and Geico Local Office!
Neither the Navy nor any other part of the federal government officially endorses any company, sponsor, or its products or services.