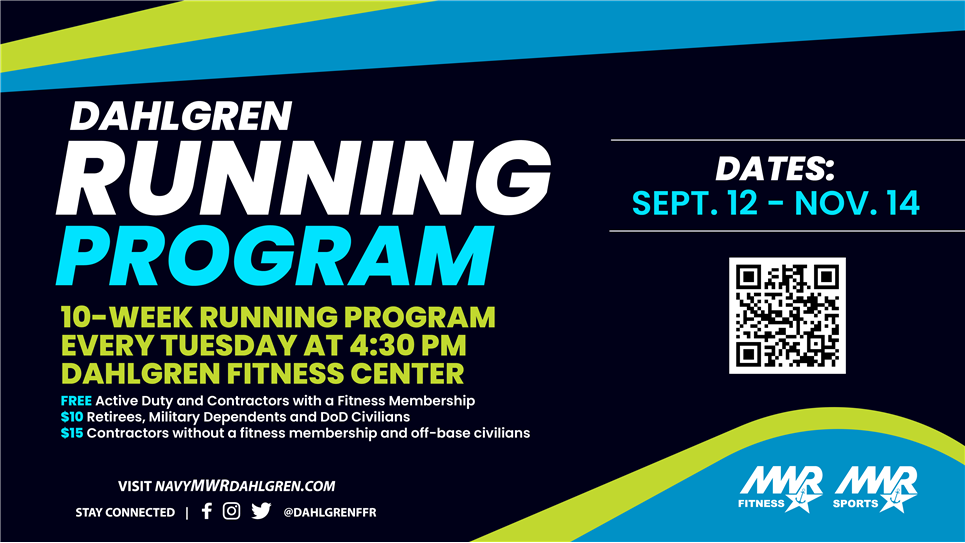 DAHLGREN RUNNING PROGRAM
Get ready to lace up your running shoes and join the Dahlgren Running Program! Whether you're a beginner, intermediate, or advanced runner, this 10-week program is designed to enhance your running skills, boost your endurance, and create a supportive community of fellow enthusiasts. REGISTER by September 12!
PROGRAM DETAILS:
Dates: September 12th - November 14th
Time: Every Tuesday at 4:30 PM
Venue: Dahlgren Fitness Center
WHO CAN JOIN?
Beginner, Intermediate, and Advanced Runners
All individuals with base access
WHY JOIN?
Structured 10-week program
Improve running techniques
Increase stamina and endurance
Connect with fellow runners
REGISTRATION INFORMATION:
Register by: September 12th
For more information or to register, contact: Dahlgren Fitness Center at 540-653-8580
PROGRAM FEES:
FREE for Active Duty and Contractors with a Fitness Membership
$10 for Retirees, Military Dependents, and DoD Civilians
$15 for Contractors without a Fitness Membership and Off-Base Civilians
Don't miss this opportunity to boost your running game, connect with like-minded individuals, and achieve your fitness goals. Join the Dahlgren Running Program today and take a step towards a healthier you!? For more information, please contact the Dahlgren Fitness Center at (540) 653-8580.